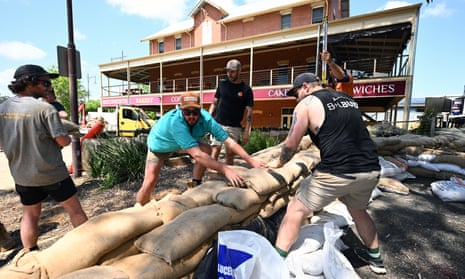 The Victorian emergency management commissioner, Andrew Crisp, is speaking in Melbourne now, giving an update on the flood and storm situation.
He says there are 20 swiftwater rescue boat crews from Queensland on standby to help in case of flood rescues.
Widespread rain and thunderstorms are expected across Australia's east coast this weekend, putting many communities on alert for potential flooding.
The severe weather warnings come as many areas in Victoria, Tasmania, NSW and Queensland are already on flood watch after heavy rain last week. NSW and Queensland are expected to cop the brunt of destructive storms, but there are also concerns for parts of Victoria and NSW where there is still flooding from last week's heavy rainfall. The Bureau of Meteorgoly has advised: "Major flooding will continue across inland New South Wales and northern Victoria as flood waters continue to impact travel, roads and infrastructure." There have been more than 50 flood warnings stretching across Victoria, while NSW has 71.
Evacuation orders were in place for both Echuca in Victoria and Moama in NSW, with more rain set to inundate the Murray River. The BoM warns the river could be in major flood until early next week.
The BoM is forecasting the Murray will reach a height of 96.8 on Saturday, similar to the 1993 flood, which reached 94.77, and will remain high for many days, before water moves downstream. Echuca residents are bracing for the water to rise, having spent a week sandbagging the town and building a levee to protect from floodwaters. There are also fears flooding will return in the towns of Shepparton and Moroopna, where major recovery efforts are underway.
In Melbourne, the BoM has warned thunderstorms could lead to flooding again around the Yarra River in Werribee and the already flood-ravaged suburb of Maribyrnong. Heavy rain has already been lashing New South Wales' North Coast as a massive storm band bears down on the east, sparking severe storm warnings and more than 100 flood warnings. The band was seen stretching more than 3500 kilometres, spanning from Far North Queensland to Victoria's north-west corner.
South East Queenslanders have been warned to strap in for a "very wet weekend" as storms hang over the state.
Weatherzone said the very unstable stormy weather pattern was the result of tropical moisture feeding a slow-moving trough, leading to heavy rainfall.
"In Brisbane, it definitely won't be the greatest BBQ weather, with falls in the range of 40 to 80mm quite likely on Saturday, with a range of 20 to 40mm potentially on the cards for Sunday," Weatherzone said. Even heavier falls are possible in Brisbane itself on Sunday. The BoM issued severe weather warnings across large parts of Queensland, with a storm moving north of Charters Towers.
"Severe thunderstorms are likely to produce damaging winds and heavy rainfall that may lead to flash flooding in the warning area over the next several hours," it wrote.
"Locations which may be affected include Mingela and Woodstock." Residents are advised to keep across BoM's warnings as the system bears down.