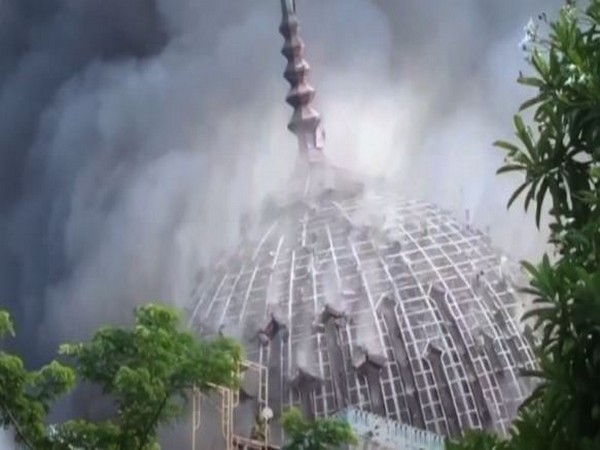 In a tragic incident, the Jakarta Islamic Center mosque in Indonesia was destroyed by a fire during its renovation on Wednesday.
Dramatic social media footage showed the moment the mosque's dome collapsed.
Firefighters were alerted about the blaze shortly after 3pm local time, with at least ten fire engines being dispatched to the scene, Indonesia media reported.
The cause of the fire is not yet known. Media reports suggest that the Islamic Center was undergoing renovations at the time.
No one was injured in the fire or the ensuing collapse. Local media added that police are investigating the cause of the fire and have questioned contractors working in the building.
Apart from the mosque, the Islamic Center complex also houses educational, commercial and research facilities.
The mosque's dome last caught fire during renovations almost exactly 20 years ago, with the October 2002 blaze taking five hours to extinguish.
At the site of JIC, there was a red light district known as Kramat Tunggak, which was established in 1972. Local communities were against the establishment of the red light district and opposed it since its establishment. In 1998, Governor of Jakarta decided to close the red-light district. It was officially closed on December 31, 1999. In 2001, Governor of Jakarta Sutiyoso conducted a brainstorming forum with all elements of society. The idea to build the Jakarta Islamic Center (JIC) was proposed by Sutiyoso to Professor Azyumardi Azra (then the Rector of UIN Syarif Hidayatullah) in New York. The motto of JIC was not only to build a mosque. Their ultimate goal was to transform JIC as one of the central nodes of Islamic civilization in Indonesia and Southeast Asia.
JIC is established on the site of the former red-light district. The site has been opened since 2003. The complex covers a land area of 7 hectares with a 6,000 m2 mosque and a place for Islamic learning.Two decrees (99/2003 and 651/2004) by the Governor in 2003 and 2004 formed the organizational and working structure of the center.
Aside from being a mosque, JIC is also a center for Islamic religious studies. It is also equipped with educational, business and commercial facilities. The construction of the homestead began in 2007, with a planned land area of 21,452 square meters. The guest house is divided into three buildings, namely the business center with an area of 5,653 square meters, convention hall or meeting hall of 4,582 square meters, and the hotel/guesthouse of 11,217 square meters. There is also an education and training center located within the complex.