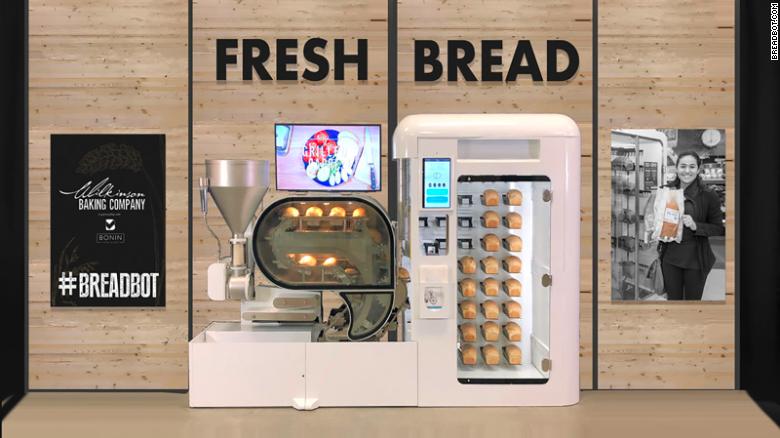 The largest technology show in the world has a large amount of mediocre gadgets and a small handful of gems.
On the eve of CES 2019, the annual consumer technology conference in Las Vegas, reporters and aspiring tech companies fill a conference hall for a first look at some of this year's offerings. The "CES Unveiled" event is a chance to see what technology themes will fill up the show this year.
Many of the companies showed similar innovations, such as the multiple smart-home security cameras and various fuzzy robots for children who have tired of their human playmates. There were funny but forgettable entries, such as a water bottle with a Bluetooth speaker, and a refrigerator that detects when you are out of beer and orders more.
 The event showcased a few interesting ideas, but not all will make it to market.
Fresh bread is always appreciated
The highlight of the event was yummy, fresh bread baked on the spot by the Breadbot — a carb vending machine. The automated device starts with dry ingredients and bakes several different types of bread, including white, whole wheat, nine grain, sourdough and honey oat.
It bakes 10 loaves an hour and mixes, forms, proofs and cooks them all on its own, without a human. The bread requires fewer preservatives since it's made on the spot, according The Wilkinson Baking Company
Three US grocery chains will begin testing it out in stores later this year, though Breadbot's makers would not specify which ones.
Breast pumps are all the rage
Mobile breast pumps made a splash at CES two years ago, and now multiple companies are hopping on the trend. Willow is back with a slightly updated version of its hands-free, cordless breast pump. British company Elvie is coming out with a similar looking device that can also be worn in a bra under normal clothes and operates with minimal sound so moms can go about their normal jobs and routines. The Elvie is already available in the United Kingdom and will start shipping in the United States in February.