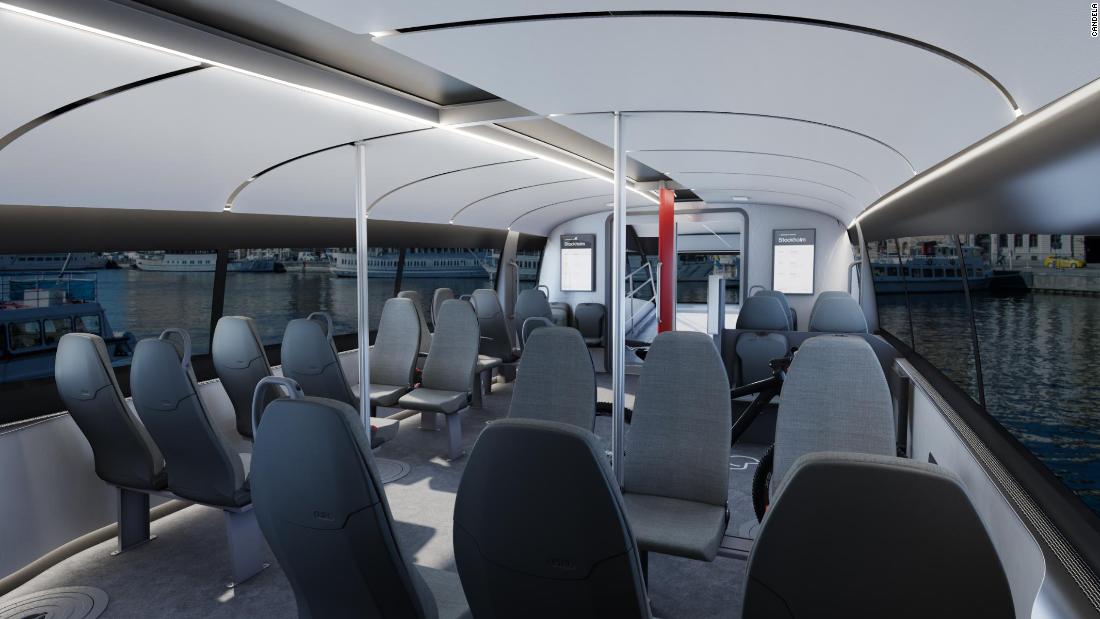 Image above: Candela's hydrofoil ferries will seat up to 30 passengers.
 (CNN Business) In Stockholm, a new generation of electric boats is making waves.
But one Swedish startup says its battery-powered boats can cut emissions while slashing journey times.
Candela
 has designed fully electric, zero-carbon hydrofoils. The company says it sold more than 100 of its C-8 model, a 28-foot leisure boat, within six months of launching in 
August 2021
. Its passenger ferries — unveiled on June 22 — are expected to hit the water next year.
Gustav Hasselskog, founder and CEO of Candela, says he took inspiration from electric carmaker Tesla (
TSLA
).
Hasselskog has been a boat enthusiast for many years. Before starting Candela in 2014, he owned a conventional powerboat, which he says consumed around "15 times more fuel than our car."
On a mission to build a greener boat, Hasselskog turned to a century-old technology.
Hydrofoils
 have wing-like structures attached to the underside of the hull. As the vessels gather speed, these "wings" lift them out of the water, reducing friction and wake, which enables them to go faster and increases battery efficiency, says Hasselskog. Made with a composite carbon fiber, the hull is ultralight — essential for making the boat "fly" across the water, he adds.
Other companies are also working on high-end battery-powered leisure boats. 
Arc Boats
, created by former rocket engineers from Elon Musk's SpaceX, is releasing its 24-foot aluminum boat this summer, while another Stockholm-based startup, 
X Shore
 has raised over 
€71 million ($74.8 million)
 to ramp up production of its electric boat, which has a range of up to 100 nautical miles.
But Hasselskog says that because the hydrofoils don't make waves, it creates a smoother ride at higher speeds. "You have this sense of flying."
A much bigger problem
Decarbonizing recreational boating won't fix the problem of ocean transport emissions. Globally, shipping generates around 
1 billion metric tons of CO2 every year
, according to the European Commission.
"The three largest producers (of emissions) are going to be the container ships, the bulk cargo, and then the tankers. Personal craft is usually the smallest," says Elise Georgeff, a researcher at the International Council on Clean Transportation.
Electrification isn't an option for larger vessels because of battery weight and range, says Georgeff, but shipping could take "several avenues" to decarbonize, including using low carbon fuels, sustainably produced hydrogen or ammonia, or assistive technologies like wind power.
Small passenger ferries on short, fixed routes are, however, "potential candidates to go electric," she says.
That's why Candela is now expanding into commercial vessels. The company is developing water taxis and ferries, which can carry between six and 30 passengers.
Its first project is a 30-seat passenger ferry, which will be trialled next year on commuter routes in Stockholm.
Optimizing existing ferry routes with hydrofoils could cut journey times in Stockholm by more than half compared to current schedules, as well as reducing the damage to wildlife and the shoreline, says Gustav Hemming, Stockholm's regional councilor of water transport.
Candela says that because its ferries create almost no wake,
 it has been granted an exemption
 from the 12-knot speed limit in city center waterways, allowing the boats to reach speeds of up to 30 knots.
Faster ferry journeys could divert commuters away from land-based transport, reducing traffic, congestion and air pollution from cars, Hemming adds.
And while charging infrastructure for electric vessels still needs improving, Hemming says electrification in Stockholm is "developing very fast."
Stockholm and beyond
Going green doesn't come cheap, though. The C-8 leisure boat retails for over €300,000 ($320,000), a similar price to other electric leisure boats in the luxury market. However, operational costs are cut by up to 90% compared to combustion engine boats, according to Candela.
Boating enthusiasts are eager to join the EV revolution, says Hasselskog. In addition to the 100 C-8 models already sold, a further 200 units are currently reserved, and its P-12 passenger ferry already has several orders from Norway.
Candela's next big challenge is scaling up production to meet this demand: the company is moving to a new facility four times the size of its existing one, and increasing its team of 30 to 100. The boating industry typically has a small scale of production, and much of the work is done by hand — but Hasselskog is exploring ways of adding automation to Candela's production process, in a bid to reduce the price of future models.
"(We want) to really push down the cost, so that we can go head on with combustion engine boats," he says.