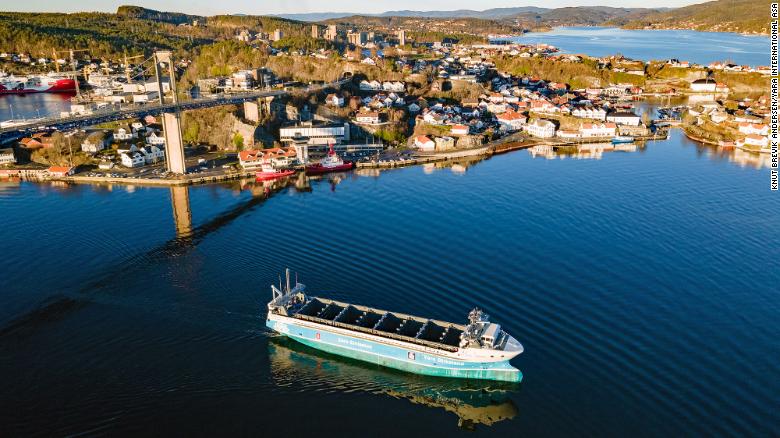 A Norwegian company has created what it calls the world's first zero-emission, autonomous cargo ship.
Developed by chemical company Yara International, It's not the first autonomous ship — an autonomous ferry launched in Finland in 2018 — but it is the first fully electric container ship, say its makers. It was designed to reduce emissions of nitrogen oxides, which are toxic pollutants and greenhouse gases, and carbon dioxide, as well as moving freight away from roads to the sea.
If all goes to plan, the ship will make its first journey between two Norwegian towns before the end of the year, with a reduced crew on board to test the autonomous systems. Eventually, all movements will be monitored from three onshore data control centers.
The shipping industry currently accounts for between 2.5% and 3% of global greenhouse gases emissions, according to the International Maritime Organization.
Nearly all of Norway's electricity is generated by hydroelectric power, which is generally considered to have much lower carbon emissions than burning fossil fuels, although it still produces greenhouse gases.
He says it will be charged at the quayside "before sailing to container harbors along the coast and then back again, replacing 40,000 truck journeys a year."
Uncharted territory
Sletten says that being crewless means it will be more cost effective to operate as well as providing a greener option compared to conventional cargo ships.
Initially, loading and unloading the ship will require humans, but according to Sletten, all loading, discharging, and mooring operations, including berthing and unberthing the vessel, will also eventually operate using autonomous technology. That will involve developing autonomous cranes and straddle carriers — vehicles that place containers onto ships.
The Yara Birkeland was originally slated to set sail last year, but the Covid-19 pandemic coupled with logistical challenges delayed its launch.
"We overestimated the scope of it in the beginning and started with too many activities in parallel," says Sletten.
After shifting the project from a fast track to a more step-by-step approach, Sletten hopes the ship will transport its first container from the town of Herøya to Brevik this year.
The project has also required regulations to be developed together with the Norwegian maritime authorities to allow an autonomous ship to navigate the country's waterways for the first time.
According to the  maritime and transport technology professor in the Netherlands that fully autonomous vessels like the Yara Birkeland are the future. But he adds that there are many challenges to overcome before autonomous ships can be used for commercial long sea journeys. He says navigating traffic in large ports could be a major obstacle.
"At some point, these ships will have to start interacting with each other so they can exchange information and create paths that are not conflicting," he says. Without a crew onboard to carry out maintenance checks, autonomous ships would need built-in self-diagnosing systems with the ability to detect and fix problems, or call for human assistance.
Besides technical issues, he says there are also legal implications when looking at traveling between countries.
"The Yara Birkeland operates along the Norwegian coast, but if it went further, then it might encounter other territorial regions with perhaps different rules and regulations that need to be met," says Negenborn. "Who is liable if something goes wrong?"
Although Yara International has no plans to add more autonomous ships to its operations, we may see more elements of AI technology used on commercial ships in the future.
"On overseas vessels is perhaps a step too far, but I think elements are already being used in shipping today when it comes to mooring and to the voyage," he says. "I think we'll see more partly autonomous elements added."